Pre-register now for the Adventure beginning Fall 2021
Scroll down to learn more and register for the option that is just right for you.
Watch your inbox for the program which will start Fall 2021 and continue for 6-weeks following! I look forward to being your guide on this journey.
~Stitch Witch Pam
Every Spin to Calm Adventure Includes:
 PDF of my book "Spinning Straw Into Gold"

 including the second chapter "Spin to Calm" which is the (sp-)inspiration for this course.

 A 55 min. Private Calm & Clarity Zoom

 with Stitch Witch Pam to dive into those hibernating dreams of yours! 

 A "Fiber Oracle Reading"

 by Pam where she discovers the perfect potion for finding calm through your Future (GOLD!) by "combing" the fibers of your Past (Straw) to be spun into this perfect moment of restoration. 

 Six weekly journal prompts

 that will take you from intention setting, space clearing, creating rituals and finishing with reflection and

 revolution (

we're spinning this, get it!?)

 Two group activation zoom sessions

 where we will embark upon a group amplification process to dispel any negative energies (fears) and magnify our restorative energies and work collectively with the five elements (earth, wind, fire, air and heavens). 

And you have three different paths to choose from for this adventure!
The Gift of the Wool Witch for those who desire a fiber potion to spin on their own. A one of a kind blended fiber batt created by your Fibre-Godmother. 
The Gift of the Stitch Witch for those who desire their own special handspun art yarn for their own knitting or weaving of the Wyrd. The Fibre-Godmother creates the blended fiber batt and spins it into a yarn that you can create your own magic with!!!
The Gift of the Peace Witch for those who would love their Fibre-Godmother to create the whole Peace Piece ~ from start to finish: Fiber Blend Potion into Handspun Art Yarn to Woven Wall Art ((Peace)) Piece. Where Heaven and Earth meet in the present moment.
The Gift of the Beneficent Witch for those who still aren't sure which path (if any) is right for them. Schedule a 55 minute Spin to Calm Zoom session with Stitch Witch Pam to see if Spinning Straw Into Gold is for you. Yes, you will receive the PDF book by that title free with this option!!! Schedule a private consultation HERE for this option.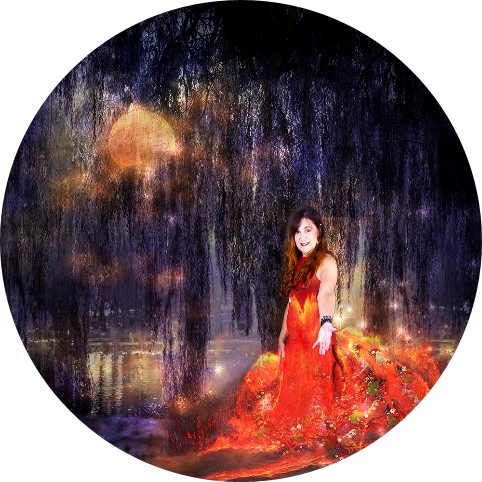 Pamela Penney : Stitch Witch, Weaver of Magic and Wonder


Stitching together over 25 years of experience as an artist and arts educator with her certification as a MindBody practitioner, Pam will cast you into her magic circle; weave you into her web of protection and take you deeper into your own soul. Should you be brave enough to join Stitch Witch Pam on one of her adventures and be dedicated enough to truly listen, she will reveal to you a map of your unique tapestry and the instructions to read it. Pam will help you to awaken your creative imagination, take abstract impressions and raw power and channel them into fruition. Pam weaves magic and wonder with her stories and invites you to join her as she partners with Spirit in becoming the co-creator of reality to move, shift and transform ourselves toward a more joyful, peaceful and coherent world.
Example Featured Products
Showcase other available courses and coaching products you're selling with the Featured Products block to provide alternatives to visitors who may not be interested in this specific course.
Check your inbox to confirm your subscription